"A delight and a regional treasure!"– Classical Voice of NC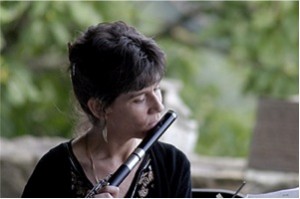 1999  Flutist Kate Steinbeck visualized bringing friends together for a couple of weeks each summer to play exquisite chamber works in remarkable settings of the Carolinas.
2000  Steinbeck invited cellist Elizabeth Austin and violist Andrew Levin to form an ensemble after playing a wedding together at Lake Keowee.
2001  As Bartram's Trio, Steinbeck, Austin and Levin presented 4 concerts — two each in North and South Carolina — and inaugurated a music festival. They named the burgeoning festival Keowee to honor the original inhabitants of this Carolina region. Keowee or Kuwâhiyi, the correct form in Tsalagi, the Cherokee language, was one of the largest and most important settlements of the Cherokee nation and the main village of the lower Cherokee. In the 1960's this land was flooded to create Lake Keowee; the settlement site now lies under water.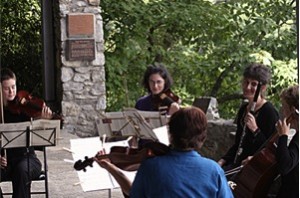 2002  The festival expanded to two different programs over two weeks – 6 concerts in all – and pianist Dewitt Tipton joined the roster. A Sunday afternoon concert was established in Pretty Place Chapel near Cedar Mountain, NC, offering an inspiring chamber music experience in an incredibly beautiful natural setting.
2003  Kate Steinbeck and Elizabeth Austin began co-directing the festival and presented the first guest artists, members of The Countryside Trio of Virginia.
2004  The ensemble presented its first children's concert, KEOWEE for KIDS!
Keowee Chamber Music Festival was granted 501(c)3 nonprofit status on Dec 8.
2005  Festival presented critically acclaimed performances and the NC/SC premiere of Andrea Clearfield's Three Songs after Poems by Pablo Neruda with guest artist Fred Bretschger, bassist of the St. Paul Chamber Orchestra.
2006  The company was invited to be ensemble-in-residence at the Reuter Center, NC Center for Creative Retirement, where it presented its first public open rehearsal, a free event to welcome the public into the realm of chamber music. Festival programming included Acoustic Dessert, a late evening gallery concert pairing the visual arts with live performance.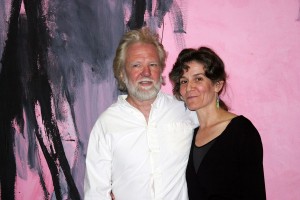 KCM was awarded funding from the Susanne Marcus Collins Foundation and the SC Arts Commission to support children's programming and community outreach efforts. The season was extended with concerts in the fall: A Slice of Music and Art at the Wedge Gallery in Asheville and Recollections in the Cathedral of All Souls, Biltmore Village, Asheville.
In November, KCM created its first residency at Evergreen Community Charter School, sponsored by the Asheville Chamber Music Series. Musicians presented workshops, which culminated in performances of music of South America with 43 sixth-graders playing alongside the artists.
2007  KCM and Mallarmé Chamber Players commissioned Paul Schoenfield to compose Three Bagatelles for flute, cello and piano and gave world premiere during KCM Festival 2007.
KCM created a residency for 2nd-graders at Bell Elementary, sponsored by the Lake Eden Arts Festival in Schools & Streets (LEAF SS). The children performed with the musicians at the LEAF.
In September and October, KCM created a residency for underserved youth, seniors and homeless adults in downtown Asheville. This three-week project was supported by a Grassroots grant from the Asheville Area Area Council. Keowee musicians also created a six-week residency at Evergreen Community Charter School, sponsored by the Asheville Chamber Music Series. The company began receiving grant support from the North Carolina Arts Council, Arts and Audience and New Realities.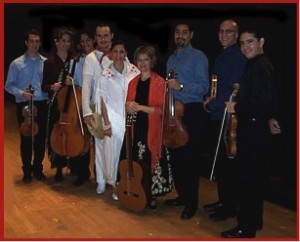 2008-2010  KCM was one of nine companies—and the first chamber music group–invited to join NC Arts Council's prestigious cARTwheels program. Keowee musicians together with Cuerteto La Catrina and Charlotte Salsa created a fantastic touring program, Fandango, Tango, Huapango, and brought Latin music, dance and art to more than 10,000 school children statewide!
2008  In May, the company created a residency for kindergarteners and first-graders at Bell Elementary, sponsored by LEAF SS.
In November, Kate Steinbeck created ELEGY, a Holocaust remembrance series in Asheville, to honor the power of the human spirit to triumph over adversity through music.
2009  Kate Steinbeck became artistic director after Liz Austin moved to New Mexico. Keowee Chamber Music celebrated its 9th annual festival.
2010  Keowee Chamber Music presented its 10th festival…. June 13, 2010 was proclaimed "Keowee Chamber Music Day" by the city of Asheville!…GrooveNGuitars is launched in Rutherford County through an NC Arts Council Arts-in Education grant, Outreach for At-Risk Youth….Keowee Chamber Music was awarded a grant for Artistic Excellence from the National Endowment from the Arts in November.
2011  Keowee Chamber Music began producing under a new name, Pan Harmonia.
In June, Pan Harmonia produced its 11th and final summer festival (Read 11 Festival Archive) and a week-long workshop for adult amateur musicians, Asheville Chamber Music Retreat was created.
2012  Pan Harmonia launches 2nd Sunday @ 5, monthly series in collaboration with the Altamont Theatre in downtown Asheville and Shining Light Project, bringing free programs of live music to underserved people in our community including those in nursing homes, homeless shelters, prisons and other such facilities.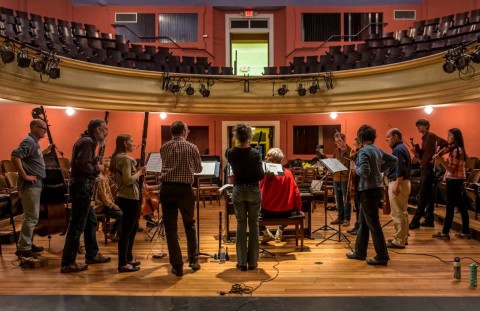 2013  Pan Harmonia produced 48 concerts in its 13th season including Aaron Copland's masterpiece Appalachian Spring in its original setting for 13 players for its May Season Finale concerts….On November 10, Pan Harmonia produced its 19th and final concert of 2nd Sunday @ 5 the Altamont Theatre in downtown Asheville.
In fall 2013, Pan Harmonia launches a new series in The Haen Gallery in both Asheville and Brevard.
2013-2014  Season highlights include Stravinsky's Octet for Winds, partially underwritten by a grant from the NC Arts Council, concerts in Asheville and the the Porter Center in Brevard; JS Bach's Brandenburg Concerto, No. 5 and Mozart's Quintet for Clarinet and Strings at Asheville Masonic Temple and White Horse Black Mountain. Pan Harmonia produced more than 30 concerts during its 14th season.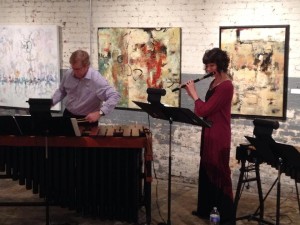 2014-2015 Season 15 highlights include a collaboration with our sister company, Mallarmé Chamber Players with concerts in both Chapel Hill and Durham….The Mary Duke Biddle Foundation awarded Pan Harmonia a grant to create a woodwind quintet mentoring program at AC Reynolds HIgh School. Thirteen young musicians received coaching from Pan Harmonia musicians throughout the school year and performed a GeneratioNext concert at St Matthias in Asheville….Carol Kessler presented her riveting Chautauqua performance, Emily Dickinson Unplugged, as a benefit for Pan Harmonia.
Our 3th annual Chamber Music Messiah raised more than $3000 for Homeward Bound of WNC!…Pan Harmonia presented four Sonata Series programs, eight concerts in all, of masterworks from the chamber music repertoire for flute, viola, bassoon, cello, harp and piano. This project was supported by the NC Arts Council. The season finale was JS Bach's Brandenburg Concerto, No. 4 and more at Asheville Masonic Temple. Pan Harmonia produced more than 30 concerts during its 15th season.
Musicians Roster 2000-2016
Flute Kate Steinbeck • Dilshad Billimoria Posnock • Elizabeth Baptista-Gaston • Bradford Malbon
Oboe/English Horn Brian Seaton • Alicia Chapman • Cara Jenkins
Clarinet Fred Lemmons • Brian Hermanson
Bassoon Rosalind Buda • Eric Dircksen • Susan Cohen • Will Peebles
Saxophone • Alan Theisen
Horn Jennifer Merrell • Tracy Golaszewski • Michael Brubaker
Trumpet Dick Kowal • Brad Ulrich • David Ginn • John Bryant • Larry Black • Casey Copenbarger
Trombone Greg Love • Mark Britt
Tuba William Bryant
Violin Karen Pommerich • Mariya Potapova • Ginger Kowal • Amy Lovinger • Margaret Humphrey • Dovid Friedlander • Daniel Vega-Albela • Blake Espy • Dan Skidmore • Jamie Laval • Andrea Pettigrew • Corine Brouwer • Linda Plaut • Leslie Warlick • Julien Pinelli • Kristy Kim
Viola Kara Poorbaugh • John Ravnan • Jan Daughtery • Jorge Martínez • Simon Értz • Andrew Levin • Lisa Zweben
Cello Franklin Keel • Rebecca Humphrey • Katie Hamilton • Alan Daowz • Elizabeth Austin • Phillip von Maltzahn • Mary Beth Hussey • Elizabeth Gergel • Maria Parrini • Jennifer Alexandra Johnston • Tim Holley
Viola de gamba Gail Ann Schroeder • Rebecca Humphrey
Bass Matthew Waid • Ian Bracchitta • Fred Bretschger • Mike Holstein
Guitar Amy Brucksch • Andy Jurik • Steve Newbrough • David Stephenson
Harp Jacquelyn Bartlett
Harpsichord Barbara Weiss
Piano Ivan Seng • Fabio Parrini • Maria Parrini • Hwa-Jin Kim • Kimberly Cann • Vance Reese • Kyle Ritter • Dewitt Tipton • Judy Bevans • Karen Sams • Daniel Weiser
Organ Eric Wall • Barbara Weiss
Percussion Byron Hedgepeth • River Guerguerian • Justin Watt
Voice Rachel Hansbury, soprano • Tena Greene, soprano • Bradley Howard, tenor • And Tito Amaya • Mara Simmons • Nancy Sokolove, readers  • Elizabeth Spragins, speaker • Rick Chess, poet