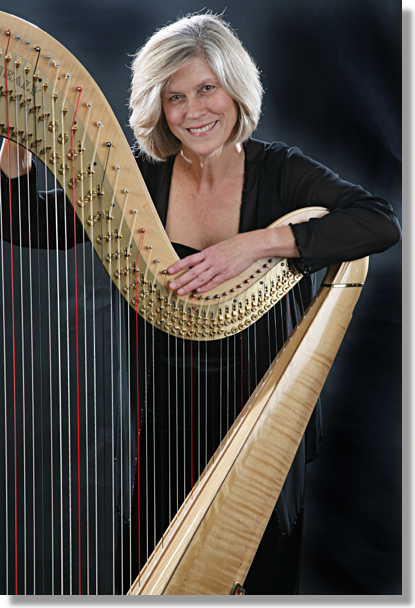 What draws you to chamber music?
The intimacy of creating art with another artist, the freedom and exchange of musical ideas and energy.
Who is your favorite composer?
Gustav Mahler
What are some of your proudest musical accomplishments?
Proud is not a word in my vocabulary. High points in my professional career include performing and touring with the New York Philharmonic, consisting of the famous musicians that I idolized growing up, with Pierre Boulez, conducting. My FIRE PINK TRIO has been a very happy marriage of three women sharing their passion of music. Presenting the world premiere of Dan Locklair's Concerto for Harp and Orchestra and then flying to Vienna to record it with the Slovak Radio Symphony Orchestra. Having two 'perfect' performances…perfection is hard to come by!
Who are some teachers or mentors whose guidance stayed with you over the years?
My mother, harpist, Mary Bartlett….she still practices every day at age 103!
Carlos Salzedo and Alice Chalifoux who always encouraged me.
Susann McDonald who gave me new ideas and permission to stop taking lessons because I had the knowledge and capacity to be successful.
What are you reading right now?
ON TYRANNY by Timothy Snyder….every American should read this valuable little book!
PACHINKO by Min Jin Lee
Do you have a favorite movie?
Beauty and the Beast
What is one of your happiest moments? 
Paddling the Colorado River through the entire Grand Canyon, Lees Ferry to Lake Meade, hiking, exploring, sleeping under the stars every night for almost three weeks.
How do you relax on your days off?
Go for walks, practice my harp, do yoga, play tennis and cook.
Any final words?
Not finished yet so, no final words!