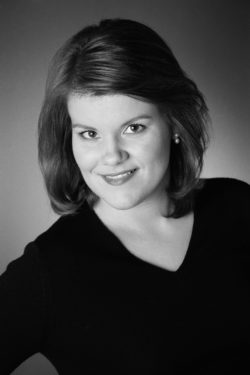 What draws you to the music of JS Bach?
Bach's music has so many layers. It teaches me how to really listen. Every time I hear or perform is a totally different experience. I discover something new that I never noticed.
Who is your favorite composer?
That's a hard question, because I love all kinds of music. Classical: Maurice Ravel. His music is so mysterious and enchanting. Mainstream: Patsy Cline! I love the brash honesty of her music and the relentless perseverance she showed during a time and in a music genre where women were not really thought of as powerful role models.
What are some of your proudest musical accomplishments?
As a graduate student at New England Conservatory, I won the Beneficent Society Scholarship and presented a concert in Jordan Hall. It was surreal and so exciting to stand on that beautiful stage and think of all the people that had come before me.
In addition to my life as a singer, I'm a music therapist.  Another proud musical moment was with an Alzheimer's client, whose disease was rapidly progressing. For several months she had not responded to any sessions, then one morning when her daughter was visiting as I came into her room, she looked up at me with the biggest smile and sang, "Hello, Dr. Brittnee!" Up until that moment, she hadn't remembered my name or her daughter's in months. Music is just awesome in that way!
Who are some teachers or mentors whose guidance stayed with you over the years?
There are so many mentors who have helped me that it is difficult to name only a couple.  My 1st and 4th grade teacher, Miss Moffitt, read Shel Silverstein's "Where the Sidewalk Ends."  She would let us make up tunes to go with his, words which helped us memorize the poetry so quickly!   My amazing 8th grade English and Drama teacher, Shirley Rossitto, taught not only her crafts in the classroom and on the stage, but also what it meant to have a strong work ethic and the commitment to accomplish anything.  She was tough as nails, but very devoted to her students, and I'm thankful every day for the skills I learned from her.
What are you reading right now?
I am reading a gardening book – specifically, compost and rain barrel stuff.  My husband just finished some new garden boxes and I can't wait to start my spring planting.
Do you have a favorite movie?
Anything from Alfred Hitchcock.  It doesn't get much better than Jimmy Stewart and Grace Kelly.
What is one of your happiest moments?
One of my happiest moments was the yearly beach vacation with my parents.  We always had so much fun and there's nothing quite as wonderful as the beautiful ocean and Gulf Coast seafood.  You don't get that in Ohio where I'm from!
How do you relax on your days off?
When I have time off I love to cook for friends and family.  Also, I keep ten backyard hens so the eggs are fabulous and my girls are always doing crazy chicken things!