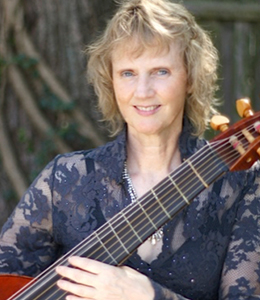 What draws you to early music? 
I love the sound of original instruments—so pure and somewhat ethereal. And I find the music resonates with me in a way that later classical music does not.  Though I love almost all styles and periods of music, Renaissance through late Baroque music is the most uplifting to me.
Who is your favorite composer?  
I love so many Baroque and Renaissance composers, but probably two of the highest on the list are Marin Marais, viola da gamba virtuoso and fabulous composer; and Georg Philip Telemann.  Their music moves me and I love to play it.
What are some of your proudest musical accomplishments?
Some of the highlights of my career that have given me great joy are winning the 5th International Competition for  Early Music Ensembles in Utrecht, Netherlands (now called the Van Wassenaar Competition) in 1991; being invited to teach with my mentor, Wieland Kuijken at the Brussels Conservatory, which I did from 1988-2002; and also performing with Wieland Kuijken and other great musicians in my 25 year stay in Europe. Playing in some of the great halls of Europe, including performing the St. Matthew Passion in Amsterdam's Concertgebouw, was also very special.
Who are some teachers or mentors whose guidance stayed with you over the years?
Though I am very connected to Wieland Kuijken and would consider him my mentor, I also had some very insightful moments in masterclasses with Jordi Savall. If I search further back in time, I was very inspired by some of the great teachers at Indiana University who would hold weekly open classes, such as Gyorgy Sebok, Janos Starker and Josef Gingold.  Even though I did not play their instruments, their teaching was at such a high level their observations and comments were often transformational—not just for the students playing!
What are you reading right now? 
'Educated' by Tara Westover—an absolutely amazing biography.  If you think you had a difficult childhood, read this book and think again!  It is also an eye-opening, and somewhat alarming, peek inside an American 'counter culture'.
Do you have a favorite movie?
I love romantic comedies and an all-time favorite is 'French Kiss' with Kevin Kline playing a Frenchman. He has a very convincing, and adorable, French accent and also speaks some French in the movie—such a talented actor! It also stars Meg Ryan who is in 'When Harry met Sally', another favorite of mine.
How do you relax on your days off?
Day off—what's that?  It seems a musician's work is never done.  When I'm not practicing, I'm catching up on e-mails, ABCs administration, packing for the next trip, or just trying to organize my office and home.  The good news is I love my work—playing, performing and teaching—so I don't feel deprived or resentful.  I always make time for a daily walk or two, to play with my kitties, and to color. It is very relaxing and I love colors! I was recently given a French Baroque Coloring book (how perfect!) from my dear friend and frequent ABCs' guest artist, Annalisa Pappano.