We love playing music for audiences of all ages!
Our mission is to share great music with people of all ages and socioeconomic strata. Our Shining Light Project brings music to all facets of our community–especially to those who may be struggling or are disadvantaged.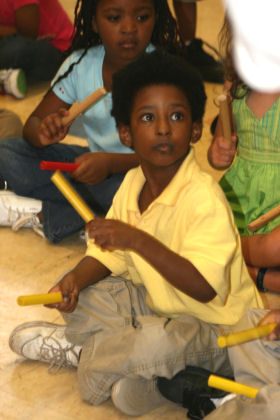 Our audiences join in the creative fun during our interactive performances and make music alongside the professionals!
Pan Harmonia was the first chamber music group invited to join the NC Arts Council's cARTwheels touring program. From 2008 to 2010, we partnered with Cuarteto la Catrina and Charlotte Salsa Dance in a program entitled Fandango, Tango, Huapango and brought the vibrancy of Latin music, art and dance to more than 10,000 school children across North Carolina.
In 2010, to celebrate our 10th anniversary, we initiated a mentoring program for gifted young musicians featuring them in GeneratioNext concerts. We continue to mentor student musicians and support young professionals in the early stages of their career.
We have produced excellent children's programming in collaboration with the following community organizations:
Asheville-Buncombe Library System
Lake Eden Arts Festival in Schools & Streets
Asheville YWCA
Asheville YMCA
Greenville Boys and Girls Club
The Hop Ice Cream Parlor and others
Additionally, we bring music to senior centers, assisted living communities, prisons and homeless shelters including:
Battery Park Apartments, for seniors
Room at the Inn, emergency shelter for homeless women
Asheville Sister Cities
Asheville Jewish Community Center
Western Carolina Rescue Ministry, homeless shelter
Stargazers (for children with Downs Syndrome and their families) at YMCA Camp Greenville.